Visual QMS – To Quality Management Excellence And Beyond!
Visual QMS is a visually appealing Quality Management System that helps the entire organization excel & stay compliant. Watch Videos | Get a Personal Demo
With Visual Process Diagrams, Guiding Documents, Quality Standards & Quality Management Workflows. The metadata concept makes it possible to see all content from many angles – just the way you want it in actual situations.
---
Process view
The Visual QMS Process view shows QMS content & tasks in the context of process diagrams. Process diagrams show, in a comprehensive & easy-to-understand way what people are doing & how it is done, through visual representation. Because process diagrams describe the daily work of each individual & at the same time provide links to related content, people can see the quality requirements related to the work they are performing.
Process diagrams will also show up in other views: as results in the Free text search or as attachments to their related content & tasks. What you see is based on your role & access rights.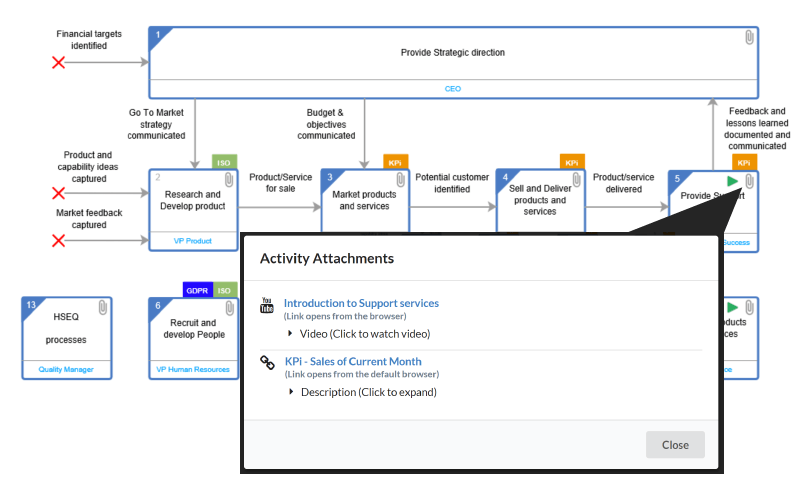 ---
COMPLIANCE VIEW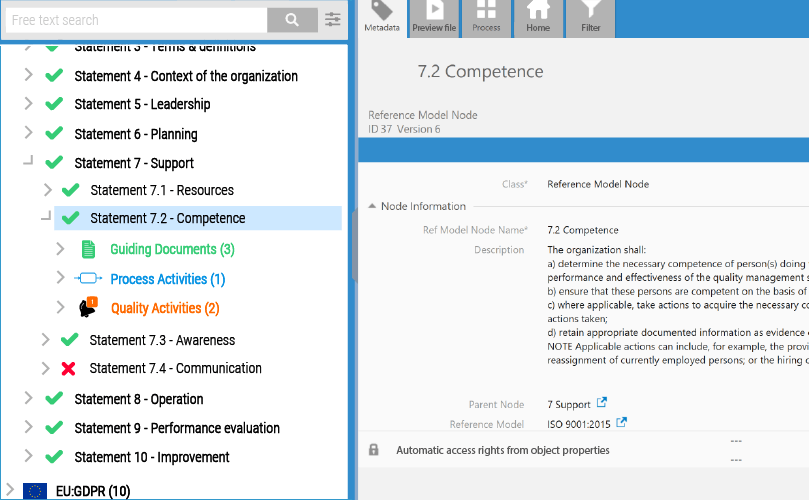 The Visual QMS Compliance View shows all Quality Information in the context of the Quality Requirements the company must live up to. For each Quality Requirement the user will see related guiding documents, process Diagrams & Quality Activities. The information is the same as in other views, just shown from a Quality Standard perspective. You can manage multiple Quality Standards in Visual QMS.
In particular, the Compliance View shows where a requirement is not sufficiently backed up by documented processes & guiding documents or if it lacks eg. internal audit in the ongoing review.
Access your library of Compliance Requirements & easily find the relevant documentation & supporting activities for each statement/paragraph. This makes it easy to ensure that every point of compliance is covered by content & workflows in the QMS.
---
GUIDING DOCUMENT VIEW
The Guiding Document View show the Quality Information in the context of Guiding Documents. Policies, Procedures, Instructions & Guidelines are cornerstones in your Visual Quality Management Solution, & from each document you can find processes, training information, quality standards related to the document.
With the metadata on each document you can easily filter & sort the information. When you edit or update information, the changes are always logged & will immediately take effect in all the other views: since the views in Visual QMS show you the same content, just in different ways & contexts.
Thanks to the workflows for changes & document control, as well as the full version management, no extra copies of documents are needed. Your people will always see the correct versions of their data – no matter where or how they find them in Visual QMS!

---
QUALITY ACTIVITIES

Quality Activities in Visual QMS are a collection of modules designed to assist the Quality Department in managing their work.
The modules introduce standardized workflows & automation where they are needed, as well as allow for easy overview of ongoing activities. Ensure actions are carried out with the use of scheduling, reminders & notifications.
Among the modules are advanced solutions for Audits, Issues & CAPA, Training & much more. Quality Activities give support to both Quality Professionals & all other staff, to help them keep the QMS alive & optimal. The supported Quality Management Activities also help improve the business. To Excellence & beyond!
Examples of pre-configured modules:
---
Visual QMS is built using the best solutions available!


Visual QMS is based on the leading Information Management System M-Files & uses Visual Business Diagrams that you map in the fantastic Elements.Cloud portal.
The UPN process notation is easy to use for the people who document processes & is easy to understand for the end-users. That secures a truly easy to understand quality management solution.
M-Files is recognized by Gartner, Forrester & other analysts for being a leading Document Management & Information Management solution on a global scale. M-Files has a full feature set needed in a modern & secure solution for containing your data.
On-Premises or Cloud!
Visual QMS can be installed On-Premises in your own IT environment or on a cloud server of your choice. For optimal access Visual QMS can even be reached from distributed servers installed in several continents.
Features Include:
World Class Search
Easily Configurable
Desktop, Browser or Mobile access
Available for immediate implementation
Scalable & Fast
Role based with configurable permission management
Secure
Deep integration with MS Office
Superior Process mapping with Elements & UPN
Integration with SharePoint Online, MS Teams & Salesforce available
… & much more!
M-Files – a full Document Management System is included in the same deal!
Part of a Quality Management System is managing content & information: making the right data easy to find & manage for those who need it. This component of Visual QMS is based on M-Files, one of the leading information & content management services.
When you implement Visual QMS you also implement one of the world's best Enterprise Content Management systems which you can also use for other business areas, not just Quality Management. There are pre-configured modules for Contract Management, Human Resources, Project Management & much more.
If you want to use M-Files for Content Management in other business areas, either as part of implementing Visual QMS or as phase 2 after establishing your Quality Management System, we are experts in its implementation & configuration for this purpose as well. Talk to us to learn more about M-Files or visit M-Files.com.
Get in contact & we may also be able to offer a demo or trial of Visual QMS designed for your specific needs.
---

Visual QMS is developed by CtrlDocs.
Read more about our solutions at CtrlDocs.com